Communication
We believe that communication is central to youth welfare. Communication between peer groups, communication between youth and parents , teachers or carers and between young people and society in general. Honest open communication of feelings, needs and aspirations leads to healing and growth.
We aim to foster communication through our meetings, Youth Forums and workshops and to develop good communication patterns through our drama and creative sessions.
Positive Images
We promote positive images of young people in the media and in society at large - by guiding Youth to achieve positive, productive life styles and giving them a voice to promote their achievements and counter the often negative media images of violence, gangs and drugs which are so often portrayed at the expense of hard working conscientious young people.
Projects
Our aims are to support a wide range of Youth Projects and thus far we have assisted and collaborated with a variety of projects.
We have invited representatives of the young fathers groups to become involved in our World Youth Forums and have brought them to meetings in London and Jamaica to share their experiences and instil responsibility and hope in other young parents; We have also produced a documentary piece on their work to promote the good work of the group. ('It's Not An Easy Road - part three')
We are keen to support Native American youth and have assisted Navajo youth to attend Youth Forums in Jamaica and London and maintain regular contact in the hope that this work can expand in the future.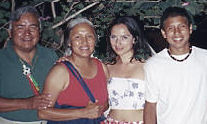 Work with teenage pregnancy and teen mothers has been ongoing for over twenty five years and includes research and survey material.

We have regularly contributed to Mental Health initiatives such as the Stop Suicide campaign and produced drama based workshops on this and other issues such as communication with youth.

Continuing 'creative' and drama workshops for groups of youth and professionals as ways to communicate and teach positive lifestyles. Recently we have been approached to do workshops in Kentucky again and also in Cleveland